Astrology Red Book and Vaastu Convention Award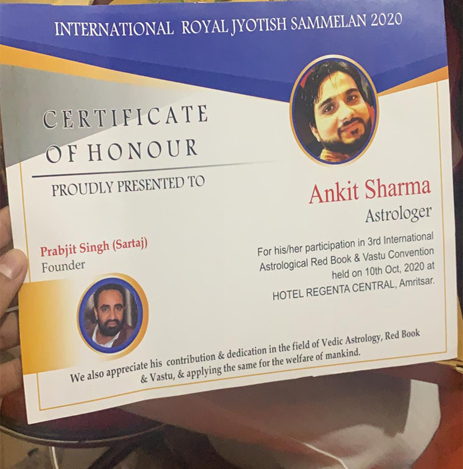 The most admired and renowned astrologer Pandit Ankit Sharma Ji has been yet again awarded with the prestigious "certificate of honor" on the third international Astrology red book and Vaastu convention award ceremony held at the Hotel Regenta Central in the city of Amritsar, Punjab.
This prestigious award was presented to our veteran astrologer Pandit Ankit Sharma Ji by the renowned founder of the international Royal JyotishiSammelan 2020 Prabhjit Singh (Sartaj).
Our honorable Pandit Ji possesses a huge experience of almost 2 decades and is a highly skilled and oriented astrologer. He has been awarded several times before for his matchless and gratifying services all over the world. He is blessed with an immense knowledge of astrology that makes him the best astrologer of india , uk and canada.
Services provided by Pandit Ankit Sharma Ji
Astrologer Pandit Ankit Sharma Ji is an ace in astrology and has been the best astrologer with the best astrology services in the country. Almost all the major problems are solved by him. Some of the services provided by him are:
Settling the issues in love affairs by his astrology and providing the couple with a joyful and happy life.
Helping the people tackling the problems of love marriages or inter-caste love marriage. All the obstacles are removed by his services.
Providing fruitful solutions for the health-related issues that a person may face.
Helping the people with their start-ups and business problems by astrology and also solving the disputes between workers.
Solving the family and domestic issues effectively and making the relationships better.
Resolving the conflicts between two people readily by astrology.
Provides best life predictions and horoscope.
Gives the most prominent advices for all types of problems.
How to Contact Astrologer Pandit Ankit Sharma Ji
People in india or abroad can freely contact astrologer Pandit Ankit Sharma Ji for solutions to any problems at:
Pandit Ankit Sharma - Best Astrologer
Direct Call : +91-95017-04528
WhatsApp: +91-95017-04528
Skype: Ankit.sharma3291
Email: info(at)PanditAnkitSharma(dot)(com)